Contents
---
User manual
---

Download PDF

Print version
Copying and moving issues
In order to copy or move issues you will be required to sign in as an administrator or as a project owner and then you are to go to the issue view page and carry out the steps as listed below.

Copy Issue for admin or lead
Admin or lead can copy issue to the project he/she has created. Select
Copy issue
form issue view page.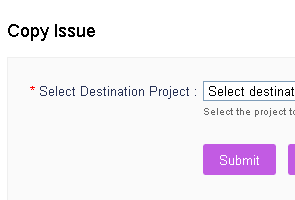 Select destination project
In order to do this, you need to select the destination of a project to which you would like a specific issue copied to.